Today the world celebrates International Youth Day, first designated by the United Nations in 1999. Now, 20 years later, the global community explores the theme of transforming education. For the occasion, we wanted to hear—from young people themselves—what challenges they have run into or seen their peers encounter. What opportunities to build skills and channel students' skills and enthusiasm have been missed? What subjects do they want to be learning about but haven't been guided on or taught? How can the youth development community support their being better prepared to succeed, long-term?
With the help of staff and local partner organizations, we asked young people around the world a set of questions:
What has been your biggest barrier to education?
What's one thing you wish you were learning about or had learned in school?
What does "education" mean to you?
From their responses, themes emerged around cost, inclusion, the imperative of meeting young people where they are as individuals, and the desire and need for life skills. Mostly, their words reinforce just how thoughtful, determined, and hungry for opportunities to learn, grow, and contribute the world's young people are.
"It's a way to overcome and get ahead as well as an opportunity for growth as a person," says Karla, 21 and a participant in the TK Foundation-funded Orale initiative in Mexico. "Education helps me get the best out of myself."
"Education is something that give you the tools to understand the world around you. This makes people analyze the situation and take choices more appropriate for the community in general without being selfish," says Sambat, a 2012 YouthActionNet® Fellow who founded Self Help Community Centre, an organization providing free education to children and youth in Cambodia.

Young participants in the Kiongozi Fellowship, through the Youth Lead project with Embassy of Ireland in Tanzania, underscore the same idea. "Education should not be only for self-interest but for the community," says Genarius, 27.
The education system in Tanzania "insists on cramming rather than understanding," explains Dorina, also a 27-year-old Kiongozi Fellow. To make matters worse, she says students are trying to memorize "irrelevant learning materials and curricula."
For Carlos in Mexico, roughly 9,000 miles away, an emphasis on rote learning presents a barrier to learning. He says just remembering everything is his biggest challenge.
Surya Karki, a 28-year-old YouthActionNet® fellow and education entrepreneur from Nepal, emphasizes that learning should be challenging, but it ultimately should be enjoyable. "I wished education was a fun thing to do rather than a building, class and desk to go to. I wished education opened possibilities for me to make mistakes and not be judged on the simple errors of mathematics or a spelling."
For Orale participants who responded, money was a consistent answer; seven of nine cited economic challenges and costs associated with school as barriers. Additionally, one young woman, Lorena, 27, said she needed to be available to care for her brothers, and another, Mariana, referenced aggression by classmates.

Although he lives across the world in Kazakhstan, 21-year-old Alisher also said money is an issue for young people. "I think financial limitations are the biggest barrier to a quality education," said the Atyrau State University graduate and participant in Zangar science, technology, engineering, and math (STEM) courses. The Zangar initiative, led in partnership with Chevron, reaches young people with hands-on STEM learning, life skills, and community engagement opportunities. "There are many free courses, and self-development is available in general. Unfortunately, not everyone can solve [education-related] difficulties and many youths give up on the way to better education."
"The public school system often creates an environment where individuality is lost," says Robert, a 17 year-old from Shreveport, Louisiana, and a participant in IYF's LEAPS initiative Teen Advisory Committee. "While I always have had access to education, it is often generalized to apply to the maximum number of students to the point where the needs of students as individuals are ignored."
In Kazakhstan, Alisher​ says, "I wish I had more arts-related lessons and advanced courses on technical subjects in school. … The individual approach helps students to realize their potential."
For Victoria, a 25-year-old YALI Mandela Washington Fellow from Nigeria working with IYF this August, this work means becoming more inclusive. "Growing up, I had a learning difficulty. I felt less-than because the curriculum in my country does not cater for children with different needs, such as those who struggled with reading and comprehension, like me. This affected my self-esteem and social-emotional development. The biggest barrier to education is inclusion. Education is most relevant when it welcomes diversity and benefits all learners, especially those who learn differently."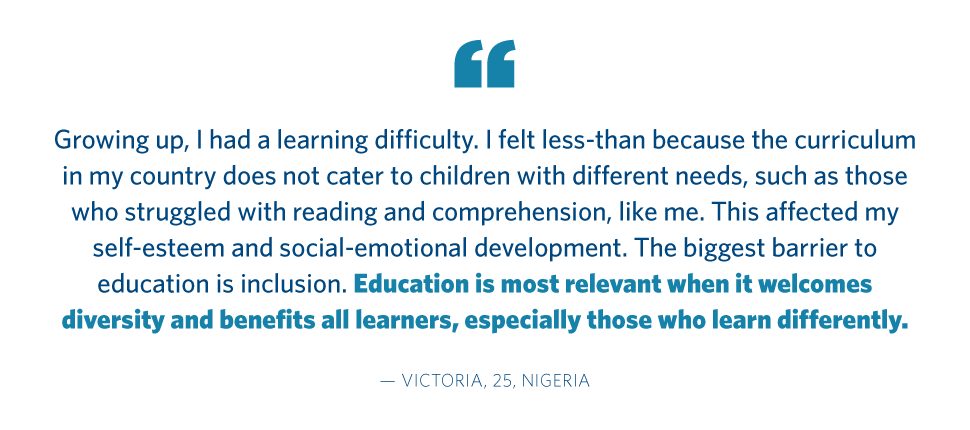 This examination and recognition of the individual should also be forward-thinking. "Something I would have loved to learn in school was which career path best aligned with my interests and abilities. It would be a great way to foresee your own future beyond what classes you're taking in school," says Ronald, 19 and a participant in the Anglo American Group Foundation-funded Programa Adelante in Moquegua, Peru. The initiative aims to bring young people into post-secondary technical education that can lead to promising career pathways.
The timeline for everyone's education can and should be different too. "When I went to university, I decided to go part-time," says social entrepreneur and 2017 YouthActionNet® fellow Melanie from Australia. "It took longer, yes, but I was able to study and work at the same time in the field I was passionate about, immersing myself in the industry and leveraging all the resources around me. When I graduated, I had a wealth of experience under my belt."
"One thing I would have liked to have learned at school is practical life skills development," says Polycarp, a 27-year-old from Tanzania and a Kiongozi Fellow.
Lillie, 17 and a participant in IYF's LEAPS initiative Teen Advisory Committee (TAC) in Louisiana, United States, wishes she was learning "adult responsibilities such as balancing a checkbook or interviewing for a job." Her classmate and fellow TAC member Annika agrees, saying "We should be able to incorporate a life skills class in our school system."
With our Passport to Success® curriculum and training—​implemented in more than 50 countries—IYF has stressed the importance of these skills for more than a decade.
Karla, Mariana, and Francisco from Mexico echo the responses from Tanzania and Louisiana. Karla says she would like to learn how to control her emotions, know herself better, and feel more confident. "I would like to learn about more practical topics, such as emotions, personal relationships, and time and money management," says Francisco. "Education is the way I find solutions for life."

Young people in Baltimore are hungry for the same skills. Jazzi, 16, and Jahmon, 14, both want to be entrepreneurs; in fact, Jazzi's already doing it by selling food at football games and a local barber shop. "Education is important because, to start your own business, you need to know things—like financial skills," she says. "Communications skills are also important because to run a business, you need to be able to communicate with people."
"Schools do not do enough to address the growing mental health crisis among teens," Robert from Louisiana says. "We waste away our health education classes without learning valuables tools to deal with depression and anxiety. We need help with the real mental health challenges we face daily, often perpetuated within schools themselves."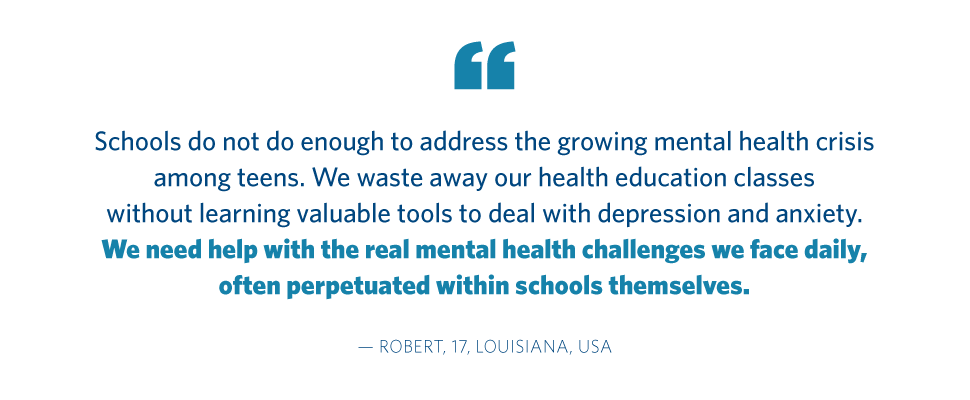 Two of three young women from Louisiana who responded cited mental health as a hurdle.
"I'd have to say that my biggest barrier that I had in education dealt with a social and mental aspect," says Jaden, 16, who wants to be an engineer. "Like most middle schoolers, I was scared to be different. It took a long time for me to realize that the stuff that I was doing and accomplishing was really cool, regardless if it was unusual for a girl to be a part of the STEM field."
Lillie says, "I would have to say my biggest barrier in education is anxiety and dealing with the feeling of not being good enough."
In the United States, anxiety is the most common emotional problem among young people ages 13 to 18. Looking globally, while not specific to education, nearly half of all youth (49 percent) surveyed for IYF's 2017 Youth Wellbeing Index said their lives were too stressful. Even more troubling is the finding that 53 percent of surveyed young people say that the way they feel emotionally gets in the way of school, a job, or life.
Both young men from Kazakhstan repeated the same phrase in their responses to IYF questions: live and learn.  "I love learning," says Konstantin, 20. "I like to get experience, whatever it is, bad or good."
Carlos, a participant in Orale in Mexico, defines education as "continuous learning for both sides."
"Education never stops," says young social innovator Melanie. "It's goes way beyond the institution, the certificate, or the fellowship. Everything—life itself—is educational."
For more youth perspectives from previous International Youth Days, read Young People Tell Us What Safe Spaces Mean to Them and Young People Tell Us How They Are Fighting Poverty & Driving Sustainability.